Established funeral directors in Sudbury​
Do you want to honour a loved one with a special funeral service? 
Get in touch with J Edwards Independent Funeral Directors.
About J Edwards Independent Funeral Directors
We are an independent, family-run funeral home caring for the bereaved in Sudbury and the surrounding areas in Suffolk. We are experienced funeral directors who offer dignified funeral services to our clients. We treat each family we come into contact with as individuals, with the aim of making a rather difficult time as easy and bearable as possible. We are not associated with any directives or national chains, and make sure to provide a tailored, personal service every time.
We are affiliated with The National Society of Allied and Independent Funeral Directors. Find out more about us and contact us with your requirements. We also offer appointments for Saturdays and Sundays, on request.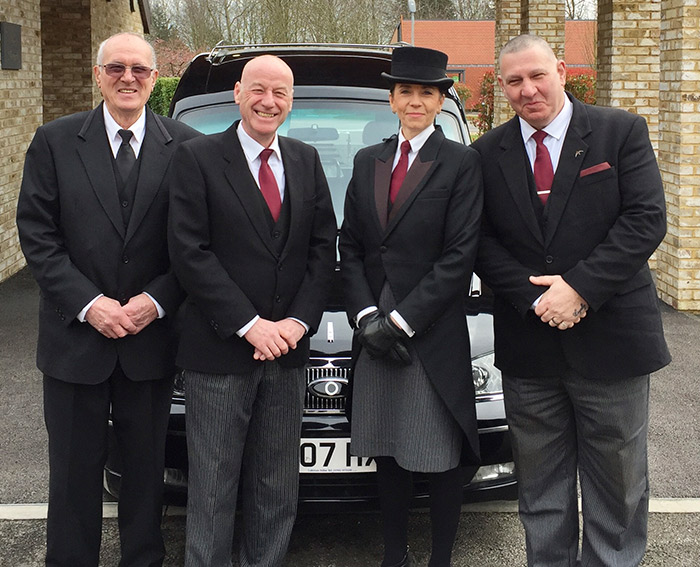 At J Edwards Independent Funeral Directors, we are here to help you through a difficult time while honouring the memory of a loved one.
We are here to guide you through the process of arranging a funeral and will be with you every step of the way.
From helping you decide what type of service you want to printing the orders of service, we can help. We are available 24 hours a day.
Tailored care and assistance
We understand that coping with the loss of a loved one can be difficult. This is why we offer a compassionate funeral service to meet your requirements. We offer our guidance and support to families, and can cater for different funerals, including religious, humanist and eco-friendly.
From helping you decide on coffins and floral tributes to arranging burials, we offer a range of services. We cater to clients across Suffolk and the surrounding areas.
Philip and Ann Purser
Dear Julie, must thank you for such a sweet and comforting funeral for my dear sister.
It could not have been conducted any better.
Anne
Dear Julie there are no words that express my gratitude to you,
You made the worst time of my life a little more bearable- because you actually care.
Joan, Paul & Julie
Dear Julie & team, you did us all proud.
And we thank you from the bottom of our hearts, we could not have had anyone any better.
If you need help arranging a burial or other funeral service, our funeral directors are here to help.
Call our office in Sudbury, Suffolk on